The Arboretum is a place for all seasons! Use these special seasonal features to plan a photo shoot or to choose one of the trails to walk. To learn more about the plants at the Arboretum see our Flora & Fauna page.
An April Walk At The Arboretum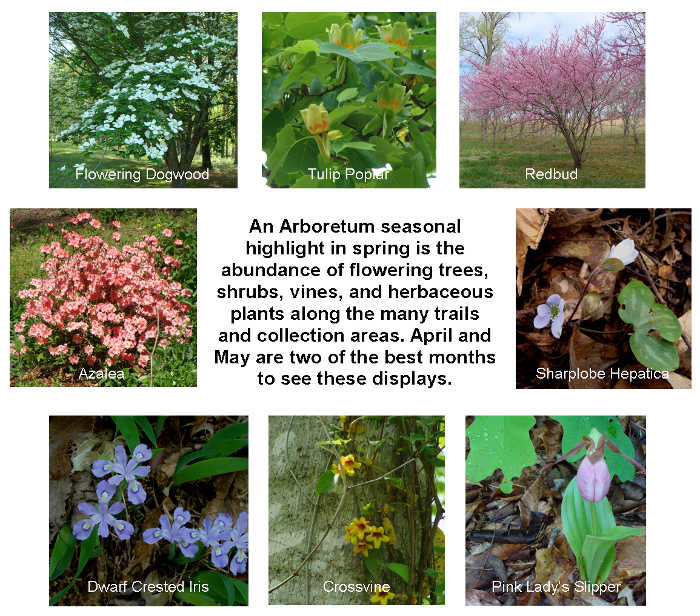 Early Spring Wildflowers
Many spring wildflowers can be seen along Arboretum trails in March and April. Six of the more common early bloomers are shown here:
Spring Blooms
Many trees and shrubs at the Arboretum burst into bloom during the month of April. A research collection of Redbuds is found along Arboretum Drive near the Program Shelter; plantings of Azaleas can be seen near the Visitors Center and the Heath Cove Trail; the Magnolia Garden near the Visitors Center contains many different Magnolia hybrids; a Flowering Dogwood research collection is present between the Tulip Poplar Spur trailhead and the Program Shelter; and Tulip Poplar, a common tree of our deciduous forests, can be seen along many of the Arboretum trails.
May Flowers
Although April showers bring May flowers, many of our spring flowers already bloomed in April. Some interesting May flowers, such as those shown below, will still be seen this month, however, along Arboretum trails: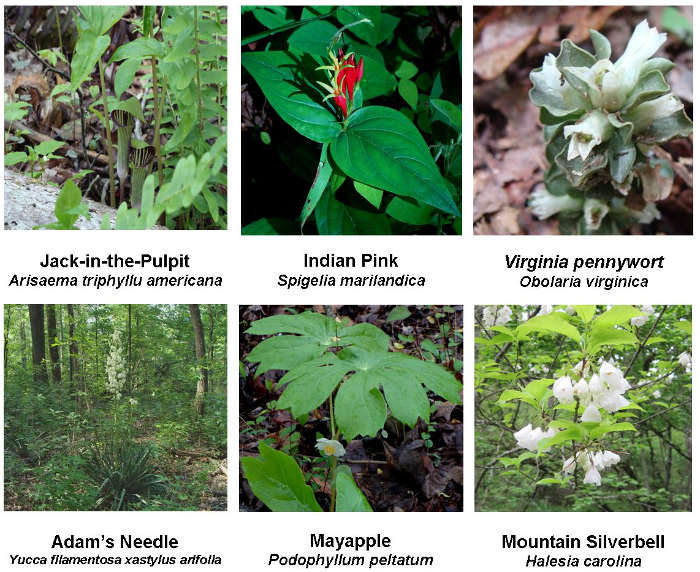 Magnolia Orchard
A major Arboretum attraction in March and April is the Magnolia Orchard near the Visitors Center, which presents both a colorful landscape and a delightful bouquet. This research orchard of hybrid magnolias was established in 1966 to evaluate their susceptibility to late spring frosts. A variety of the blooming hybrids is shown below.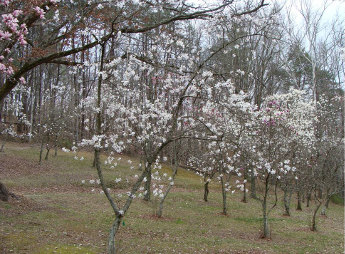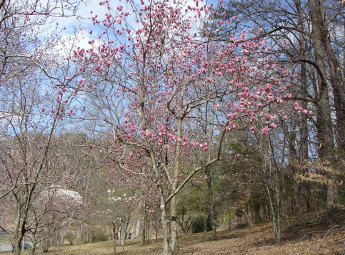 Hollies have been associated with the winter solstice since ancient times. They are found throughout the world occupying a wide range of habitats. More than 780 evergreen hollies and 30 deciduous hollies have been recognized. Although North America is not considered a major center of holly diversity, it does have 23 native hollies, with 7 occurring in Tennessee. Many holly cultivars have been developed and are used extensively in landscaping. Hollies have a rich history of medicinal uses and have been regarded as religious symbols. They are also used widely for wreaths and other holiday decorations.
American Holly (Ilex opaca) is found as an understory tree in a variety of habitats throughout the Arboretum. Although it can grow to heights of 50 to 60 feet, most of the trees along the trails are much smaller, reflecting their slow growth rate and the relatively recent disturbance history of our forests. After leaf fall in the autumn, American Hollies with their spiny, evergreen leaves become more readily visible. The fruits (4-seeded drupes) are collected along with the leaves for Christmas wreaths and other holiday decorations. The fruits are eaten by birds and small mammals, but can be toxic to humans and pets. The wood is suitable for inlays in cabinet work, handles, carvings, rulers, and scientific instruments. When dyed black to resemble ebony, the wood is used for violin pegs, piano keys, and fingerboards.
The Harold L. Elmore Holly Collection at the UT Arboretum is a research and display garden containing over 200 evergreen and deciduous Holly cultivars. The collection is named in honor of the late Harold Elmore, a past president of the University of Tennessee Arboretum Society and the Holly Society of America. It is recognized by the Holly Society of America as an official collection of Hollies, and was written up in the Tennessee Farm Bureau's Home and Garden Magazine (Fall 2014). Other Holly plantings are found in the Marsh Area and along Valley Drive and Shade Tree Lane.

Fall Foliage
Fall leaf colors at the Arboretum peak during October. A hike along any one of our numerous trails will provide an opportunity to see a variety of trees, shrubs, and vines displaying leaf colors ranging from bright red to yellow to orange. Some of the more impressive species are shown here.
Fall Wildflowers 2014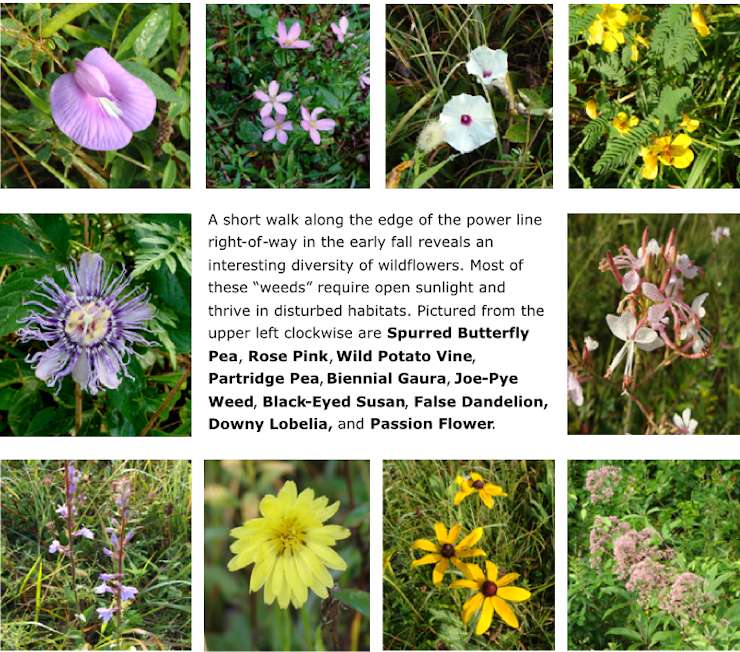 Please help us preserve our natural heritage!
No collecting of plant materials is permitted at the UT Arboretum.