Dam It: Partnering with Beavers to Heal the Planet with Ben Goldfarb
Register for Zoom Link and Recording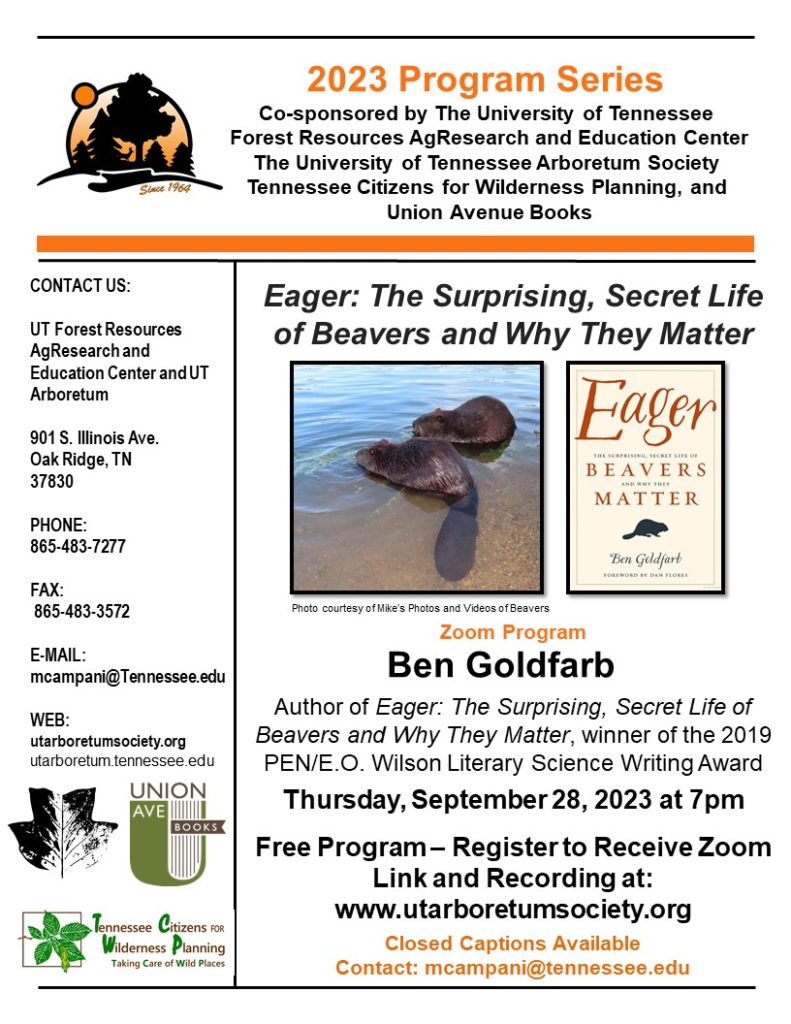 Thursday, September 28, 2023, at 7pm Eastern Time on Zoom
Join us on Zoom as award winning environmental journalist, Ben Goldfarb, reveals that our modern conception of a healthy ecosystem is wrong, distorted by the fur trade that once eliminated millions of beavers from North America's waterways. The consequences of losing beavers were profound: ponds drained, wetlands dried up, and species from salmon to swans lost vital habitat. Today, a growing coalition of "Beaver Believers" recognizes that ecosystems with beavers are far healthier than those without them, and is hard at work restoring these industrious rodents to their former haunts. In his talk, Ben will discuss the history of this world-changing species; how beavers can help us fight drought, flooding, wildfire, and climate change; and how we can coexist with this challenging but vital rodent. He'll also briefly discuss his new book, Crossings, and how wildlife crossing structures are helping to prevent roadkill and reconnect habitats around the world.
This program is co-sponsored by The UT Arboretum Society, Tennessee Citizens for Wilderness Planning and Union Avenue Books. Registrants will be given a discount coupon code to use on Goldfarb's two books at Union Avenue Books. The free program will be recorded and sent to all who register and closed captions are available.
Ben Goldfarb is the author of Eager: The Surprising, Secret Life of Beavers and Why They Matter, winner of the 2019 PEN/E.O. Wilson Literary Science Writing Award. His work has appeared in publications including the Atlantic, Science, the New York Times, and the Washington Post. His next book, Crossings: How Road Ecology Is Shaping the Future of Our Planet, will be published by W.W. Norton & Company in September 2023. He lives in Colorado with his wife, Elise, and his dog, Kit — which is, of course, what you call a baby beaver.
---
Get to Know Our East Tennessee Birds of Prey with Stephen Lyn Bales
Register for Zoom Link and Recording
---