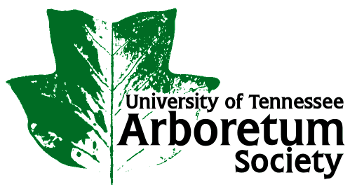 Membership
Join the UT Arboretum Society (UTAS) today!
Benefits of Membership in the University of Tennessee Arboretum Society include:
Learn about our rich East Tennessee ecosystem-
Help build the UT Arboretum collections by identifying potential new additions of native trees, shrubs, and flowers.
Attend lectures and workshops led by recognized experts.
Experience some of the best hiking trails west of the Smokies—without the crowds! Almost right in your own backyard.
Explore the UT Arboretum Library of plant resources.
Members only discounts-
15% Discount of auditorium or Sharp Program Shelter facility rental
Discount on class fees
20%Discount on BUG CAMP for children
Expand your own plant-oriented horizons—
Participate in the members-only Spring Plant Sale—before the sale is open to the public.
Take part in UTAS sponsored tours to exceptional private and public gardens at reduced cost.
Receive Branches, the UTAS quarterly newsletter, with articles about plants, UT Arboretum activities, and highlights of UTAS efforts.
Invitation to members only special events
Support the UT Arboretum research and education goals—
Associate with like-minded gardeners, and enjoy the outdoors as you assist in caring for the UT Arboretum special plant collections such as the Elmore Holly Collection, Native Plant Garden, Rain Garden and Viburnum Collection.
Work on fundraising projects such as the plant sales and special events.
Donate expertise, individual plants, or financial assistance to the UT Arboretum—a unique resource for studying the natural wonders of Tennessee.
Membership Categories:
Student: $15
Individual: $35
Family: $50
Society Friend: $100
Professional Photographer: $100
Patron of the UT Arboretum: $500
Corporate: $1,000 (minimum)
Memberships are for 12 months. Membership expiration dates are printed on the mailing labels of Branches and other special mailings.
Online New or Renewal Memberships
Or Memberships by Mail
Access and download a UT Arboretum Society membership application form. Mail the completed membership application and your check, payable to UTAS, to:
UTAS
P.O. Box 5382
Oak Ridge, TN 37831-5382